We can help you control access to your building by installing a videophone or parlophone system. This is to control the access to your building (mega-electric.com).
Do you want internet, cable TV, telephone in your whole house or office? We install the cabling for the networking of your equipment.
In order to control the access to your building we advise you to install a parlophony system in Brussels. This parlophony system allows you a simple and effective control. Thus, you can answer the different calls with complete peace of mind. Indeed, thanks to this system you have the possibility of unlocking your door. You are also able to communicate with your visitors from a distance.
It is also useful to talk with your neighbors or your colleagues. Indeed, whether it is for a house or for your office, it is the ideal tool. On one hand for your private comfort. On the other hand for your professional life.
You need a system to facilitate access to your building? However the image is not a priority? Then choose the parlophony system Brussels. We will be happy to discuss your needs with you in order to find the most suitable solution. CD Engineering specializes in the installation of parlophony systems.
Thanks to CD Engineering sprl, it is all the domestic electricity at your disposal. The tertiary electricity but also industrial in strong current and weak current.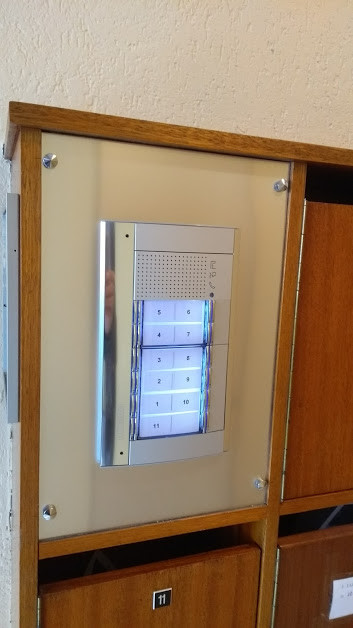 Repair and maintenance of videophony and parlophony in Brussels
Your parlophony or videophony device has a breakdown? Don't panic, you can call CD Engineering for a quick and efficient repair. Our electricians will come to your home to provide you with a repair service or electrical troubleshooting on your device.
We also perform maintenance on your appliances. If you think your appliances are old or if you find that they sometimes have "bugs", don't hesitate to call a licensed electrician like CD Engineering.
Replacement of your parlophony system in Brussels
Your intercom is outdated and you want to change it? CD Engineering takes care of it. We install your new box and we quickly set up your parlophone. You can choose the ring of your intercom, a color screen or a black and white parlophone, etc. Some video intercom-like models allow you to install a motion detector, night vision, etc.
Your certified electrician at CD Engineering knows how to set up all types of devices: wireless or wired intercom, intercom system with touch screen or equipped with push button, etc. Count on our unmatched versatility.
Your questions about parlophony in Brussels
What is parlophony in Brussels ?
A parlophone is an intercom system, which allows you to be warned when a visitor arrives at your home. It is a remote access system: it is often equipped with buttons to contact the home or to enter a code to unlock a door.
This parlophone also allows you to communicate in audio with people outside your home. Thanks to this system, you will be able to know the intentions of those who come to ring your doorbell. This is more practical than the time when you had to look through the little eye on the door.
It can also happen that intercoms or videophones are used to open a garden gate or other electric gate.
What is videophony in Brussels ?
A videophone combines audio and video. You will be able to see your visitor thanks to an integrated camera located at the entrance door. It is an additional element that allows you to reassure even more, because you have a visual of the person who is in front of your door.
When you don't know your visitor, access control with a videophone is particularly useful. It will allow you to judge how much you can trust your visitor. You will have an access control with the audio and video box. With the video intercom, you will be able to see the person who rang your doorbell. You can therefore be totally serene with your video door phone (touch).
There are also more and more video phones connected directly to your smartphone. It is therefore even more convenient, because you can answer your visitor even if you are not at home. CD Engineering and its team of certified electricians install this type of new generation device in your home.
How to choose your intercom in Brussels? 
The best intercom is obviously the one that suits you best. Indeed, you don't need a high definition LCD screen or a very expensive wireless intercom if you don't use it. Most of the time, a simple parlophone can be enough to meet your needs. You pick up the handset, press a button, the door opens and you're done.
That said, some buildings require optimal security. For example, in an embassy, being able to identify a visitor via a clear visual is a must. The best way to know which intercom is right for you is to identify your needs beforehand. Once you have chosen your intercom or parlophone, you can count on CD Engineering to install it in your home!
5 Place du Champ de Mars

1050 Bruxelles
95, Chaussée d'Alsemberg

1630 Linkebeek