CD Engineering is an electrician in Brussels. We provide you with the compliance upgrade but also the updating in the electrical standards of your house. You have just acquired a house, an apartment or a business? You have received an electrical non-compliance paper? In order to ensure your well-being, we are able to bring your installation into conformity.
To this end, do not hesitate to contact us now. As far as we are concerned, we have been offering our quality services for 24 years already.
Our expertise as electricians in Brussels
On the basis of the visit report, we will draw up an estimate for the work to be carried out, for example:
This estimate includes both the insulation and the electrical loss (infringements 1101-1104);
It can also concern the earth connection ( infringements 1021 to 1211);
We also deal with equipotential bonding (infringements 1301 to 1310);
The quotation may also concern the differential (infringements 1401 to 1409);
Electrical diagrams are also part of our field of expertise (infringements 1501 to 1505);
We can also draw up a quotation for your electrical panel (infringements 1061 to 1808);
As far as protective conductors are concerned (infringements 1214 to 1219), our technicians are trained;
Estimates for colour coding but also for piping (infringements 1081 to 1819) are part of our expertise;
In fact, equipment (infringements 1091 to 1917) is one of our specialties.
We are also able to provide estimates for Fire Protection (infringements1712 to 1925).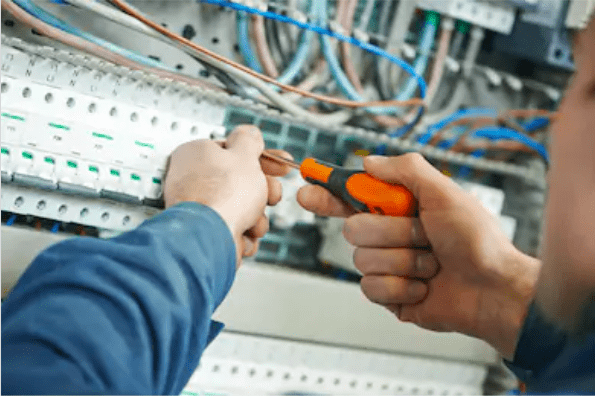 Send us the official report by email (contact@cd-engineering.be) or by Fax (02-381-31-55). Mention your name and phone number and we will contact you afterwards to make a visit.
CD Engineering is all domestic, tertiary and industrial electricity. In strong current and also weak current. Active in this field for 24 years, we put our expertise at your service. In particular, we are specialists in electrical compliance in Brussels. We are able to carry out all interventions in this field. Consult our fields of activity, for example: electricity, home automation, telecom or lighting. Would you like to have a precise idea of our work before working with us? Go and see our achievements.
CD Engineering : your expert in electrical compliance
Are you a new home buyer in the city of Brussels? Do you simply think it's time to have your electrical installations checked? For your safety and for the safety of your family, it is important to check any electrical installation that might be outdated. The conformity of electrical circuits is not only a legal obligation, but also a moral duty that you have towards yourself, your neighbours and your family. In order to limit any risk of fire or short circuit, call in a licensed electrician. CD Engineering is the reference for electrical control in Brussels. Do not hesitate to request a quote on our website. Our electricians will be happy to carry out a professional inspection of your installations.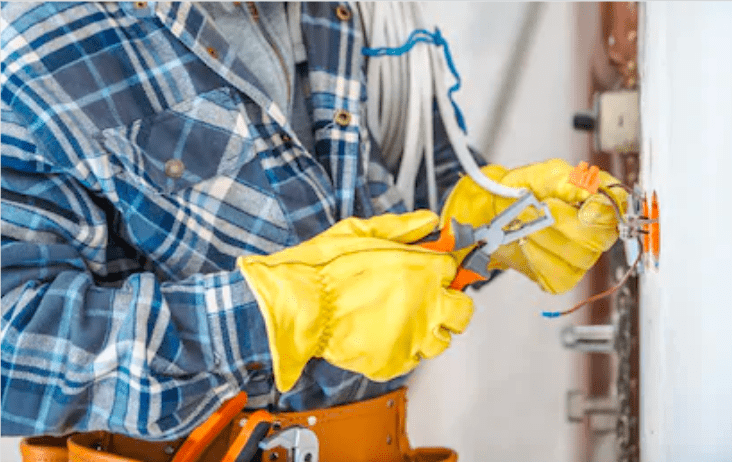 How is the electrical compliance inspection of my home carried out?
The verification of the electrical conformity is carried out in particular by checking the electrical network, the sockets, the electrical panel, the circuit breaker, etc. A professional electrician will come to your home with his electrical equipment and carry out a check-up of your home. He will then provide you with a list of the items to be updated. If, for example, your grounding plug is faulty, it must be replaced. You could also have problems with electrical connections, or an electrical panel that does not meet standards. There are a lot of things to check when it comes to the electrical sector. Always entrust this work to an experienced electrician!
How to obtain an electrical compliance certificate in Brussels?
Have you requested the intervention of an electrician for compliance work? Then you must receive a certificate of compliance from your electrician as soon as the work is completed. This certificate is proof that your home now meets the electrical standards. But of course, your peace of mind is the most important thing. That's why you should choose a trusted professional for this type of work. CD Engineering has been carrying out electrical compliance interventions in Brussels for private individuals and professionals for 24 years now. Ask for our references if you want to know more about our expertise. You can also ask for a free and obligation-free quote via our form!
5 Place du Champ de Mars

1050 Bruxelles
95, Chaussée d'Alsemberg

1630 Linkebeek